General Description:
The test system provides the general electrical test equipment necessary to test the spacecraft during subsystem and system level integration and test operations as well as support the launch site operation of the spacecraft. Slightly different configurations of the system will be used for each stage of this testing. The operator interacts with the test system for the control of the electrical test equipment. Output of the test system is in the form of print out as well as electronic data passed to the secure system for analysis and archive purposes. Raw data from the test system will also be stored locally for a time, and then pushed to an offline  archive media.

Features:
The Guidance Navigation and Control subsystem provides the equipment used to support satellite GN&C subsystem, On-Board Computer software, Interface, Open-Loop and Closed-Loop stability testing in satellite level test environments.

A typical GN&C subsystem interfaces consists the followings:
Inertial Measurement Unit (IMU)
Reaction Wheel Assemblies (RWA)
Sun Sensor Assembly (SSA) and Earth Sensor Assembly (ESA) Targets
Thrusters Tester
On-Board Computer via the spacecraft MIL-STD-1553B Bus

Download specifications page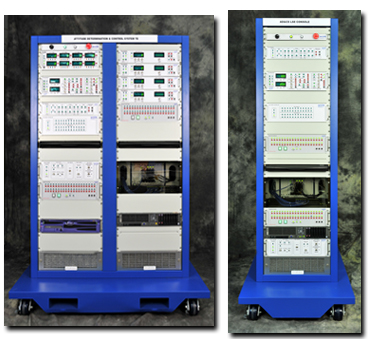 | | |
| --- | --- |
| GNC Double Bay | ADCS Single Bay |

Attitude Control Console (ACC)


Stand-Alone Products:


System Products:
Guidance Navigation & Control